5 good reasons to choose us
| | | | | |
| --- | --- | --- | --- | --- |
| | | | | |
| Foldable Power and comfort | Services and warranty Switzerland | Assembly control in Switzerland | Swiss Brand | Price |
All our E-FATI are equipped with Full Option: Thumb accelerator, LCD screen, Front and rear LED lights with brake light, Bafang engine, Samsung battery, disc brakes, luggage rack, spring and foldable seat post, telescopic fork, fenders, as well as a very reliable Shimano derailleur.


E-FATI L

The E-FATI L is the foldable electric fatbike version specially designed to guarantee you a maximum of sensation, robust, comfortable with a lot of character. With its folding system, you can store it in the trunk of your car, in your truck, in your motorhome, in your boat ... With its big tires 20 "X 4.00 with crampons you will be able to roll on all the grounds, on rough ground or on evasive grounds (sand, snow, mud, etc.) with ease. Mounted on rims 20 inches 80mm, so you get from the rim to the edge of the tire almost 8 centimeters of air cushion, With its suspension fork so that ride with the E-FATI L is a real is
comfortable pleasure. You can choose between a Samsung 14.5 Ah 522Wh battery that will offer you between 30 and 60 km of battery range, and a 17.4 Ah 17.4 Ah 630Wh battery that will offer you between 40 and 80 km of battery range. You also have the option of ordering an additional 14.5 Ah or 17.4 Ah battery.




BAFANG 36V 500W / 522Wh / 630Wh
Available colors White Matte Black
In stock
The indicated prices correspond to the original E-FATI's, without changes.
All modification options such as comfort seats, ergo leather grips, brown or whitewall tires, hydraulic brakes, air fork
as well as the manpower for the realization of the modifications to carry out will be invoiced in addition.
Please ask your dealer for a detailed quote.

CHF 1999.00 (TVA incl.) 36v 14,5Ah 522Wh
CHF 2199.00 (TVA incl.) 36v 17,4Ah 630Wh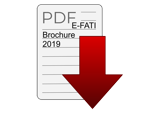 TECHNICAL SPECIFICATIONS E-FATI L

Bafang motor 36V
Power (max) 500W
Torque (max) 80Nm
Samsung Li-Ion Lithium Battery
Battery Capacity 36V 14,5 Ah / 3,5 Kg (522Wh) 30-60 * km / Charging time 5h
Battery Capacity 36V 17,4 Ah / 4Kg (630Wh) 40-80 * km / Charging time 6h
Intelligent Charger 100-240V / 50-60Hz / 3A
Maximum speed at pedaling 25 Km / h
Accelerator handle yes
LCD display 5 levels of assistance
Front LED lighting with stop lights
Frame material Aluminum 6061
Suspended fork
Tires 20 "x 4.00 Kenda
Mudguards Yes
Luggage rack Max 25Kg
Tektro 180mm Disc / Brake disc brakes
Shimano Tourney 7 speed transmission
Tray Av 52 teeth
Weight 25 Kg
Dimensions E-fati L Height 120cm Width 60cm Length 178cm
Dimensions E-fati L Folded Height 75cm Width 54cm Length 110cm

Important information !!!

For people with a high weight (from 95Kg) and tall (from 1m85) longer and reinforced saddle seatposts are made specially, without spring.
This is to prevent the frame of E-FATI from being damaged.
No extra charge.
Please specify when ordering.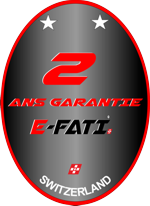 The 3 Critical Components on Electric Bike: Engine, Controller and Battery 


E-FATI Uses:
| | | |
| --- | --- | --- |
| | | |
| The famous 500W bafang motor | The famous 20A KT Controller | The famous Samsung Cell 2900mAh |
Carrying Bag For E-FATI / L / LU / SU / S
Designed for the transport and protection of your E-FATI in means of transport such as trains, campingcar, automobiles.

from Novembre 2019
PRICE: 80.00 CHF

Why become a TCS member?
Stay independent in your personal mobility and travel safely. A TCS membership is well worth it for you too.
New: bikes and e-bikes included
E-FATI L
---
There are no products to list in this category.