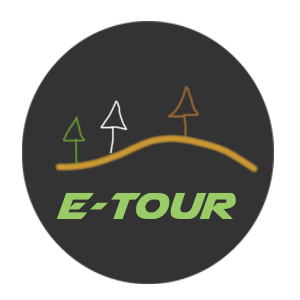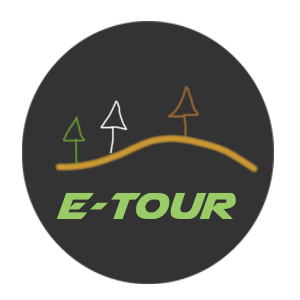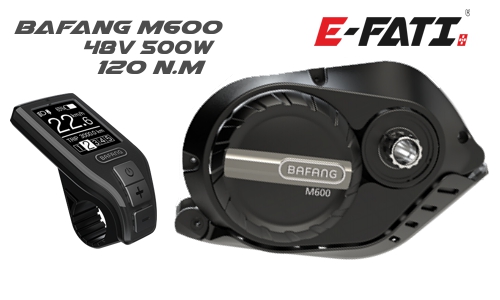 We are Excited to Announce Our New Product Launching Soon 2020! E-FATI e-TOUR Central engine

Motor
Would you like a little more? The M600 engine always delivers top performance and is the first choice for modern eVTC. With its high torque and dual speed sensors it reacts with lightning speed and delivers impressive ride support at all times. 500 W, 3.7 kg, maximum torque 120 Nm.

Display
Ergonomic centre mount display with remote control (compatible with winter gloves). Includes an easy to read user interface design with 5 assist modes, walk assist function, vibrating feedback buttons, USB port and a BLE chip for devices such as smart watches, smart phones and heart rate monitors.

Battery
With up to 700 Wh capacity Samsung 48V 14,5Ah, the new Bafang drive systems support even longer tours and even greater adventures.

TECHNICAL SPECIFICATIONS E-FATI e-TOUR L / LU

Bafang Central motor 48V
Power (max) 500W
Torque (max) 120Nm
Samsung Li-Ion Lithium Battery
Battery Capacity 36V 14,5 Ah / 3,5 Kg (700Wh) 40-120 * km / Charging time 5h
Intelligent Charger 100-240V / 50-60Hz / 3A
Maximum speed at pedaling 25 Km / h
Accelerator handle yes
LCD display 5 levels of assistance
Front LED lighting with stop lights
Frame material Aluminum 6061
Suspended fork
Tires 20 "x 4.00 Kenda
Mudguards Yes
Luggage rack Max 25Kg
Disc brakes 180mm Disc hydraulique
Shimano 7 speed transmission
Tray Av 52 teeth
Weight 25 Kg
Dimensions E-fati L Height 120cm Width 60cm Length 178cm
Dimensions E-fati L Folded Height 75cm Width 54cm Length 110cm

SPECIFICATIONS MOTOR

Position Mid Motor
Construction Gear drive
Rated Voltage (DCV) 36/43/48
n0 (Rpm) 125/125
Rated Power (W) 350/500
nT(Rpm) 118/105
Max Torque 120 N.m
Efficiency (%) ≥ 80
Pedal Sensor Speed and Torque Integrated
Shaft Standard BAFANG
Color Black
Weight (kg) 3.4
Noise Grade (dB) < 55
Operating Temperature -20-45℃
E-Brake Yes
Gearsensor Function Yes
Light Drive Capacity (DCV / W) 6 /3(max)

Tests & Certifications

IP IP 65
Certifications CE / EN 14764 / ROHS
Salt Spary Test Standard(h) 96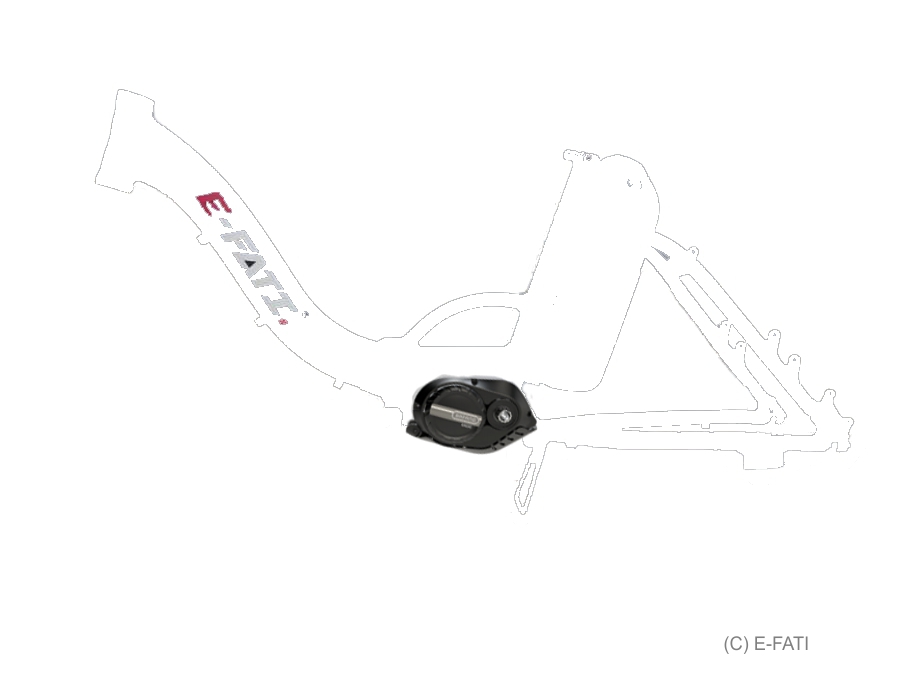 E-FATI CENTRAL MOTOR
There are no products to list in this category.